Pet Control
February, 2015
1er Prix du concours RMS Start Up 2013.
RMS start-up c'est huit équipes de cinq étudiants qui n'ont que 24h pour créer une start-up et la défendre.
Le résultat est une start-up franco-allemande appelée Lupin. Lupin propose un habitat novateur pour nos animaux de compagnie, à la fois écologique et connecté, adapté aussi bien au confort de l'animal qu'aux contraintes d'un intérieur citadin. Le design de ces cages est inspiré d'une photographie, issue d'un manuel scolaire illustrant le système D en temps de guerre. Les cages Lupin s'intègrent parfaitement dans les intérieurs contemporains en prenant l'apparence de commode mais en intégrant un espace consacré à nos compagnons et une technologie dédiée au confort de tous. Le tiroir fin formant le fond de la cage peut aisément se retirer et se laver, quant à celui surplombant la cage, il contient un système de régulation et de filtration de l'air (bannissant les mauvaises odeurs) ainsi qu'une webcam connectée à une application mobile de télésurveillance et d'aide au soin animalier. Lupin propose également une offre de customisation des éléments de finitions.
1st Prize Winner of the annual RMS (Reims Management School) Start Up contest.
Given only 24 hours, eight teams of five students is tasked to create a start-up that supports the environment and connects generations. The result is Lupin, a play of the French words lapin, meaning rabbit, and ludique, meaning playful. Lupin designs The Golden Cage, an environmentally conscious but stylishly disguised pet cage. Inspired by a photograph from a middle school history book, the Golden Cage blends inside your living space by looking like a chest of drawers but functions as a pet cage with modern features. A receptacle at the bottom of the cage can be easily removed and washed. The drawer right above the pet space hides an air filtration system to banish odors, and a webcam connected to an app to monitor pet activity. The top drawer serves as storage. For the luxury market, the Golden Cage is also envisioned to be custom-made.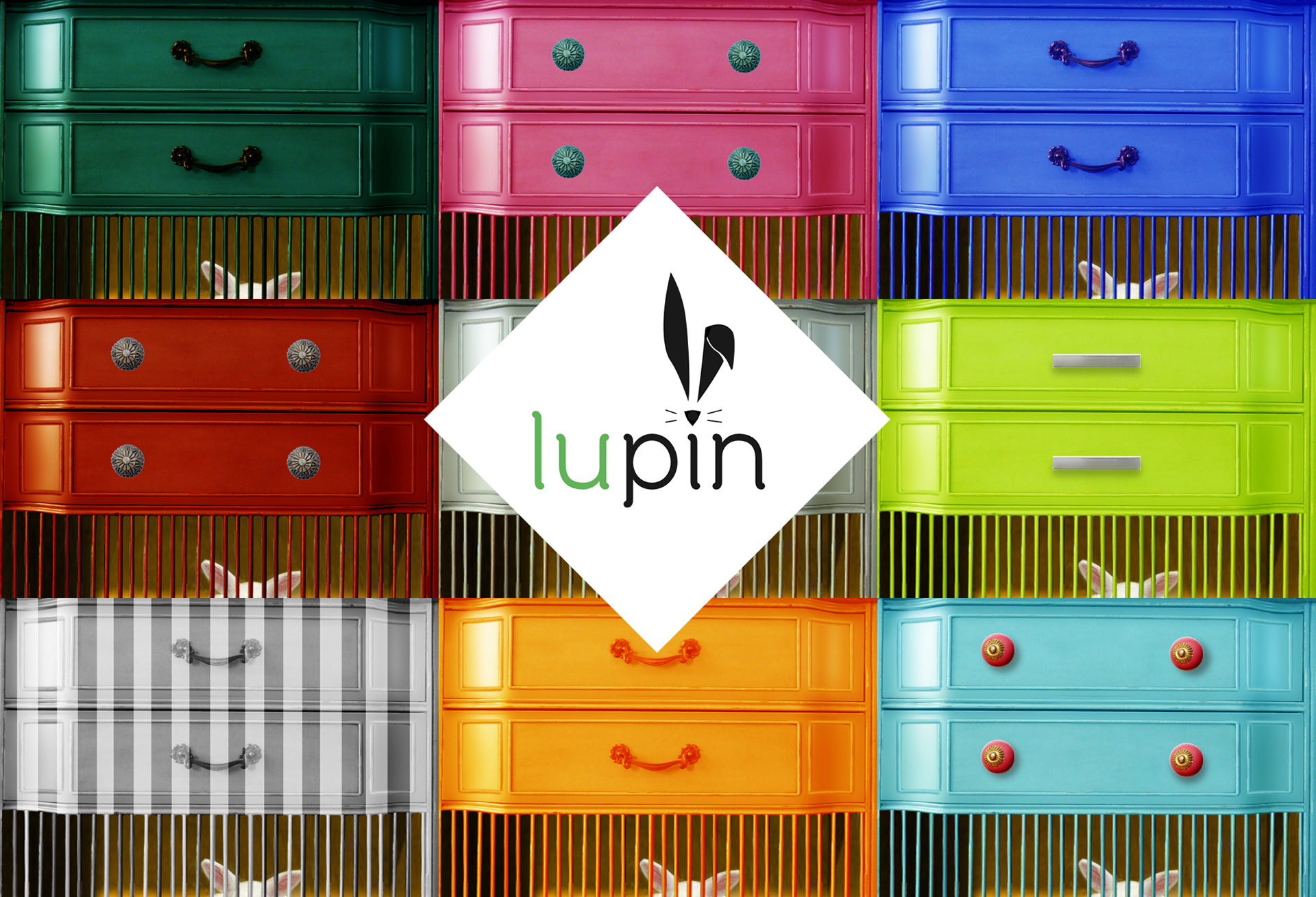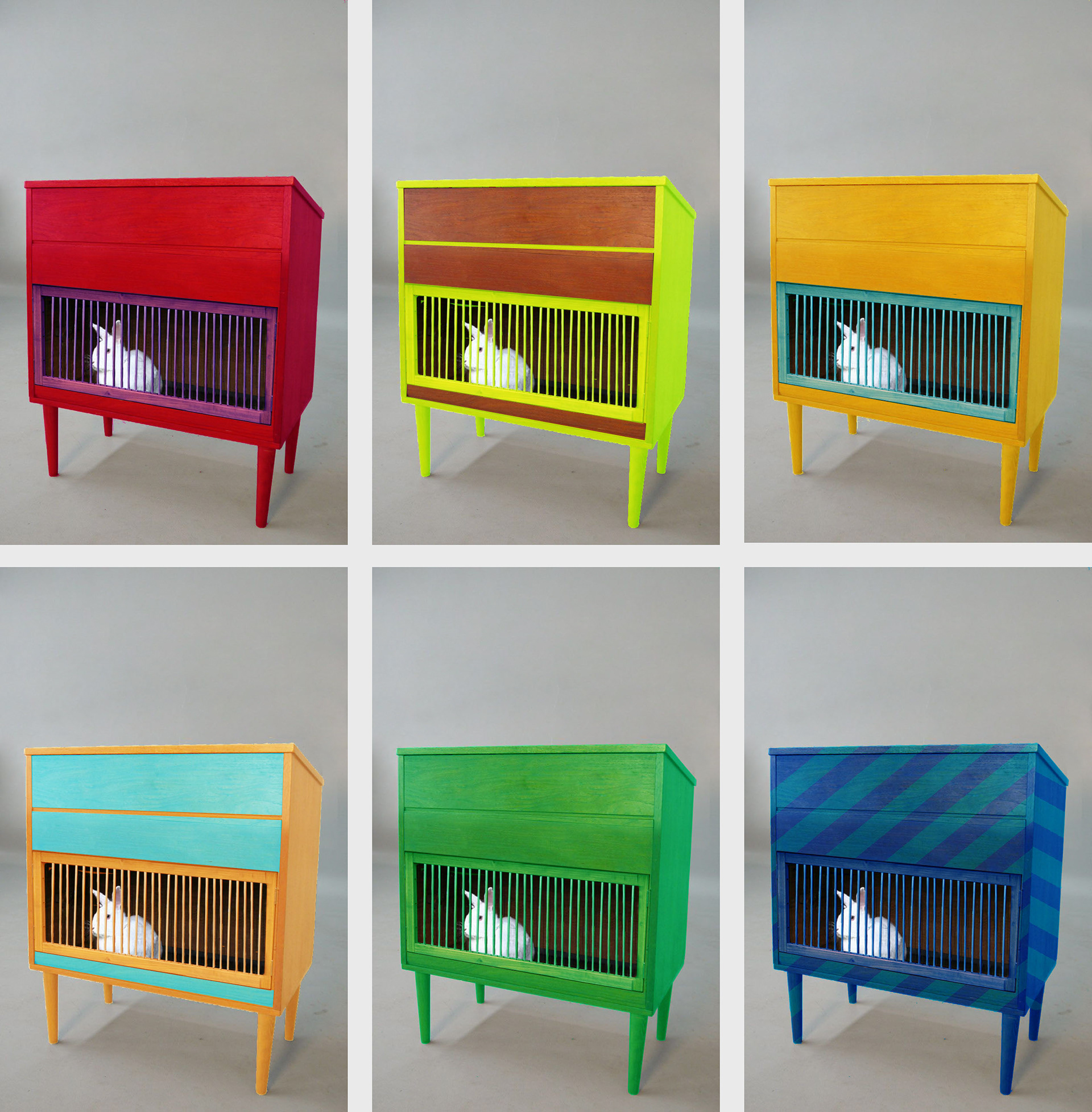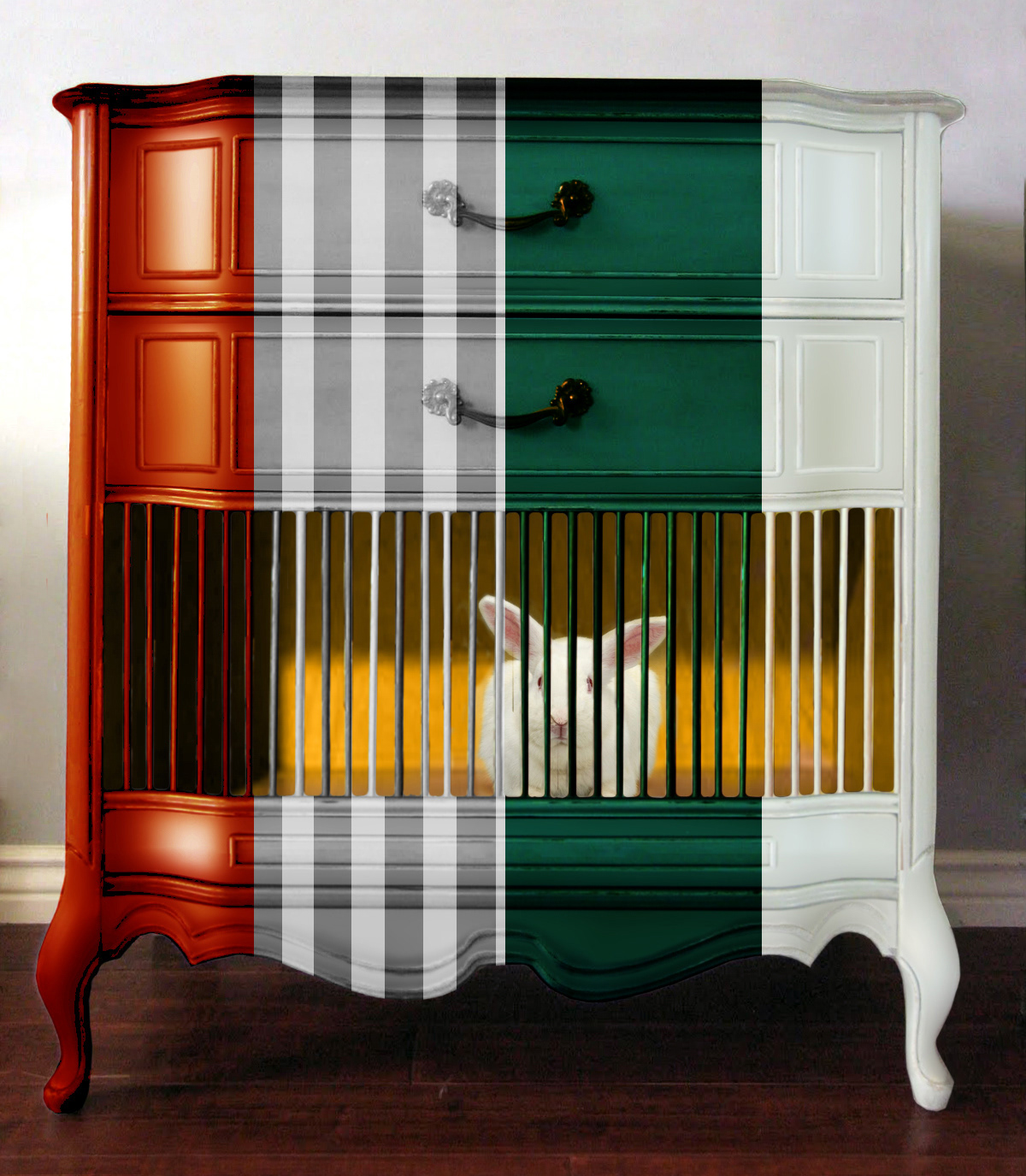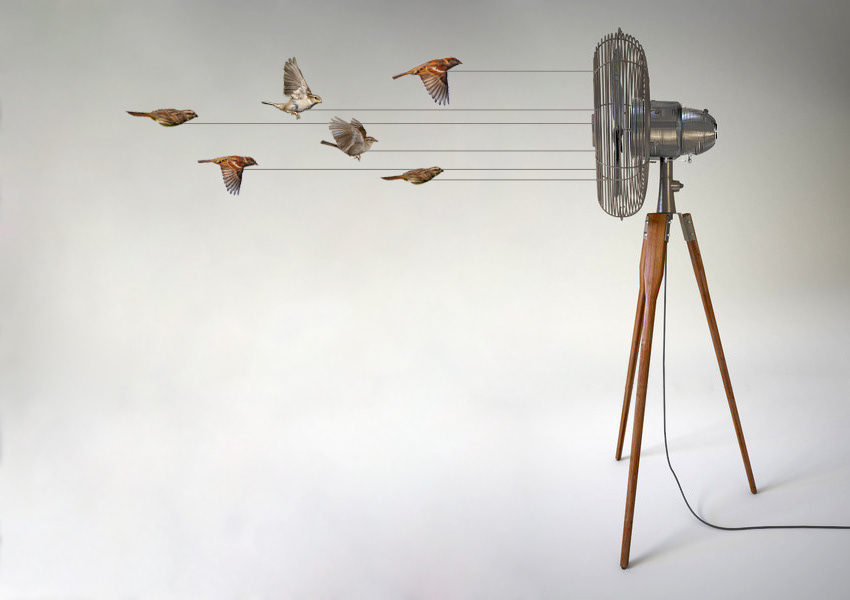 Travail réalisé dans le cadre d'un stage chez Sebastian Errazuriz à New York.

Le Duck fan est une oeuvre emblématique du designer chilien Sebastian Errazuriz, ccomprenant un canard empaillé fixé face à un ventilateur allumé. Exercice de déclinaison autour de cet objet ironique, ce mariage loufoque comme un mot-valise entre monde aviaire et générateur à courant d'air, mais en respectant l'univers et le style du designer.
For the New York City internship with Sebastian Errazuriz.
The Bird Fan is a take on designer Sebastian Errazuriz' Duck Fan—a stuffed duck flying into a blowing fan. An exercise on the meeting between two objects, namely a fan and a bird cage, the Bird Fan is a playful marriage of two unlikely objects.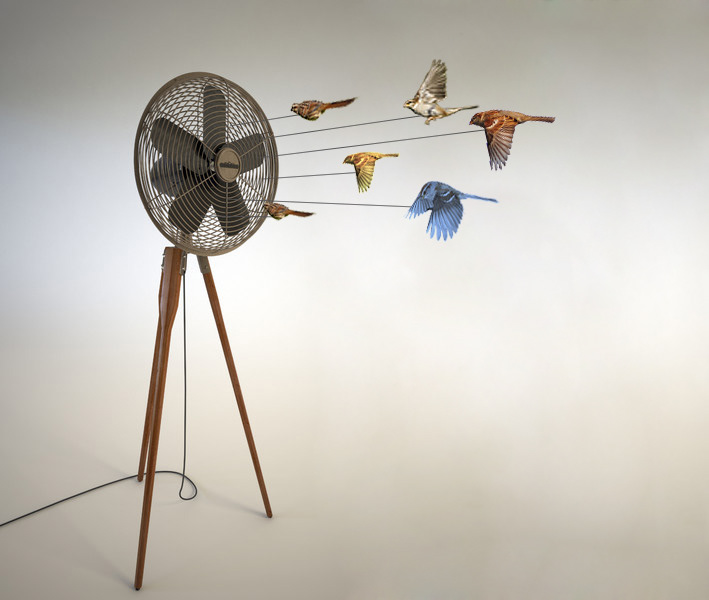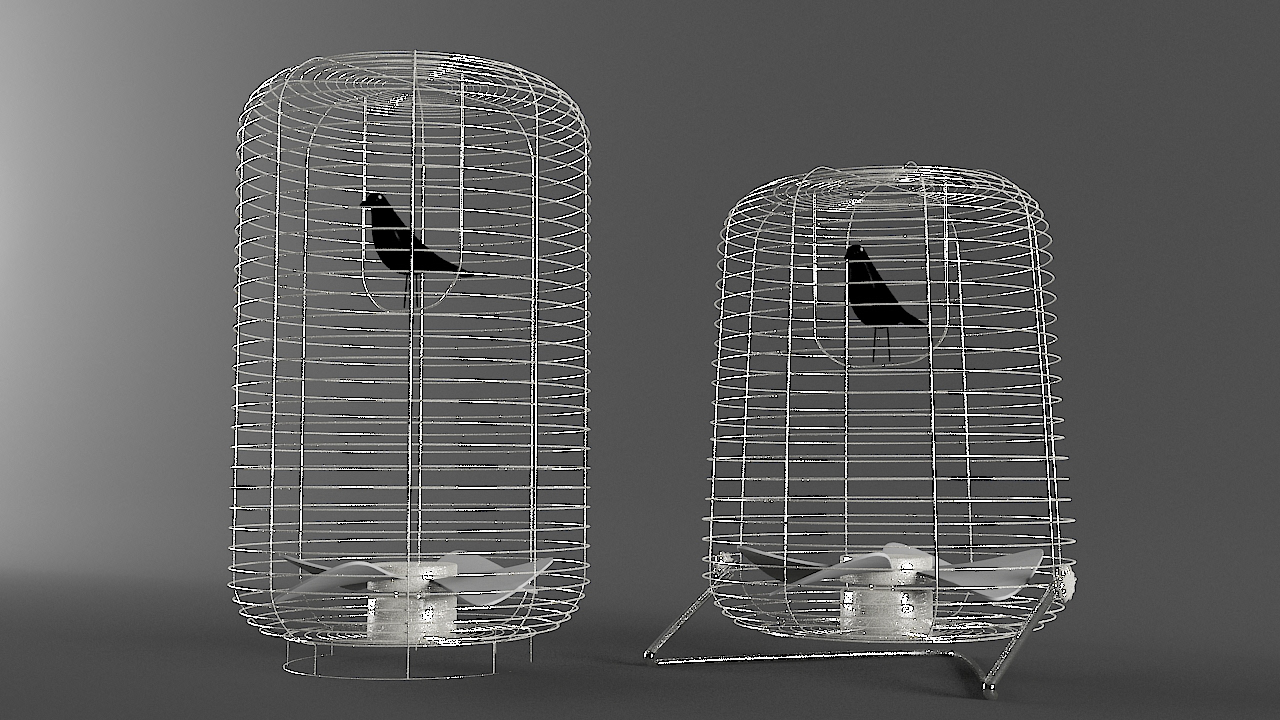 Idem mais avec le bocal à poisson rouge et la bibliothèque